The vision document was launched by Minister of State, Malcom Noonan on the 23rd of September, 2020.  Representing Kerry Cycling Campaign, Anluan Dunne was a member of the launch panel and spoke at the event
The vision document provides the information and guidance to enable Kerry, and other counties, to excel in a multitude of areas. 
For local people and communities we talk to regeneration of our towns and villages
For local businesses, we talk about the economic benefits, loyalty and repeat business that cycling brings
For health, both mental and physical, we talk to activity and well-being
For visitors to our county, we talk to new and improved tourism products as yet unrealised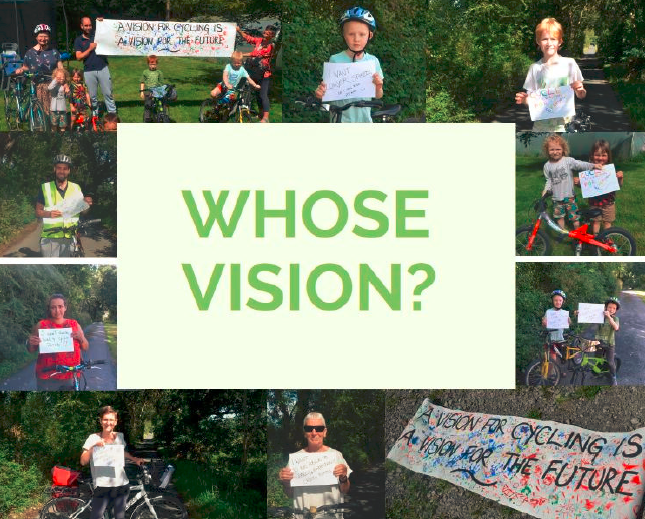 We understand that some of the changes needed to enable a higher quality cycling experience are at times not visible. This is especially the case if one does not cycle regularly.
– We encourage you to get on your bike and experience your local area and identify where you believe improvements are needed

We also understand the concerns of business leaders when we talk about re-prioritising road space for people walking or on bikes. As a country we have forgotten the value of those who travel by foot or bike. A value which is economically four times greater than a customer arriving by car and far more loyal to local business over out-of-town retail parks.
– We have engaged with Chambers Ireland and the local chambers in Kerry

What we wish for is an enhanced sense of community, safer streets for people of all ages and abilities and a thriving and growing population which can support our local businesses.
– We are engaged with sports clubs, community organisations and the PPN

We want to drive Kerry forward with with a sustainable approach to the treatment of our communities, towns and villages, with new tourism offerings with proven returns and a real and tangible contribution to business.
– The funding is available from national government, now is the time to seize this opportunity and make the changes needed. Contact your local politicians today and tell them that you want to see cycling prioritised

The vision is available from the cyclist.ie rural vision webpage (PDF).