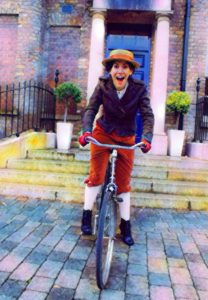 There are a worrying number of "ists" in society today – racists, sexists, and even fascists – who'd have thought they'd make such a comeback?! For her debut one-woman show, Elaine Gallagher has decided to focus on a positive "ist" in society – the cyclist!
The Freedom Machine is a hilarious audio-visual stand up show, which celebrates 100 years of women's suffrage by exploring the revolutionary bicycle. Co-Director of "The Comeback" feature film (Filmbase). Writer for "The Mario Rosenstock Show" (RTÉ). This work premiered at Smock Allies: Scene + Heard 2018.
As part of National Bike Week Kerry Cycling Campaign presents The Freedom Machine a new show from Elaine Gallagher which explores the parallels between cycling and feminism using a mix of stand up comedy and audio-visual inserts.
The history of cycling mirrors the history of feminism in a fascinating way. As the call for women's suffrage grew towards the end of the 1800's, so did women's use of the bicycle, and both were seen as threats to the established social order. The notion of women traveling around unchaperoned was at best challenging, and for many unacceptable and dangerous. Is it any wonder when bicycles were a source of unprecedented liberty for so many women, or as Susan B. Anthony called it, "a freedom machine".
Elaine's show will chart the origins of the bicycle and its role in granting freedoms to women, including its significant role in female suffrage. It will also explore the parallels between cyclists and women, and motorists and men, i.e. motorist/male entitlement, being subject to abuse and potential violence, lacking the safe facilities that we need in this day and age, and so on.
This is a free event (limited spaces) and will take place at O'Donnells, Mounthawk, Tralee, Co. Kerry on Friday the 29th of June at 8pm.
For those interested in cycling to this event a group will be meeting at 7.15 in Tralee town square for a leisurely spin out along the Tralee-Fenit Greenway.
This event is supported by: